Part 2: Ultimate Guide To Starting Your Own Business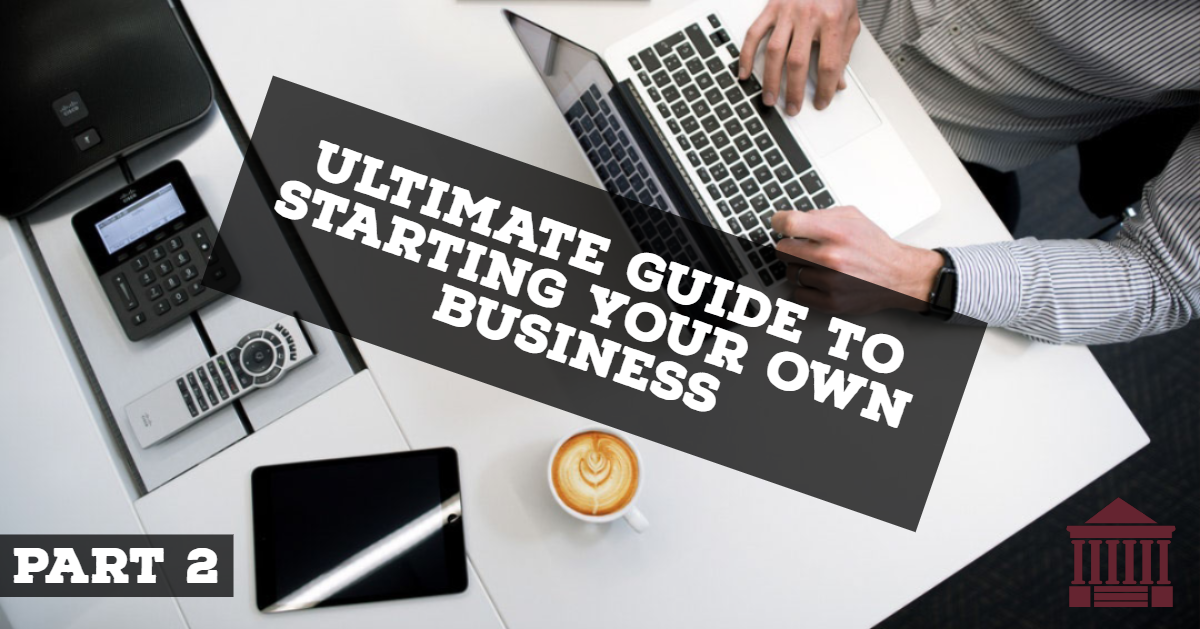 Getting Started
Branding is one of the most important aspects of running any business. Brands help customers recognize and know your products and services. A good branding and marketing strategy will bring people in and, paired with excellent service, will keep them coming back as they recognize your name, logo and marketing materials. A big question is: "what will you name your business?" If creativity is something you lack, there are many online tools that can help with naming your company. You may also want to hire a branding coach, or an advertising agency to help you establish your unique brand that will make a mark.
Choosing The Right Entity
Once you've laid the groundwork for your business plan and strategy, there is important paperwork you'll need to get started and to keep operations running smoothly. First, you'll need to decide what business entity structure works best for your situation and finalize your company name for all of the startup documents. The most common small business structures include:
Sole Proprietorships
S Corporations
Limited Liability Companies
Partnerships
Each entity structure has its own unique advantages and disadvantages, but from a tax point of view it is strongly recommended that small businesses incorporate their startups and form an S Corporation. In addition to the tax savings, tax free benefits, and flexibility offered with this structure, incorporated businesses also enjoy personal asset protection, easy ownership transfers in the event of retirement or selling the business, and simplified raising of capital. Choosing the right structure for your business could mean the difference between success and failure.
Other Licenses, Forms and Permits
Once you select and form an appropriate entity, you'll need to apply for any necessary federal, state or local licenses, tax receipts, and permits to operate your business. You may need a Sales Tax Resale Number if your company sells physical products within the state where it does business, and you'll be required to collect and pay sales tax on these items. In addition, most businesses are required by their city or county to obtain a Local Business License, granting them the authority to operate in the area. In order to open a bank account and process payroll, you'll need to obtain your Federal Employer Identification Number from the IRS. Other important company documents include:
List of owners and addresses
Copies of formation documents
Financial statements
Annual reports
Annual meeting minutes
Any changes or amendments to the company
Tax and corporate filings
By-Laws, Operating Agreements, or other startup agreements.
Get organized by creating a method for processing orders, paying bills, paying employees, maintaining permits, paying taxes, and everything else your business needs to operate. Try to systemize these things in a way that allows you to focus on growing your business.
Starting your own business isn't easy, and it certainly takes time, determination, and lots of hard work, however, with the right tools and knowledge, you can ensure a smooth launch. Here at Alron Corps, Inc., a subsidiary of Alron Enterprises, Inc. we help you navigate the complicated world of starting your own business. We assist you in picking the right entity structure to maximize tax savings, help upkeep your business administration, and provide small business tips and tricks. We'll take care of the technical work for you, so you can invest your time and energy into marketing, bringing in customers or clients, and other important aspects. We can't wait to work with you! Ready to start your new business? Give us a call: 321-951-7626 or send us an email: alroncorps@aol.com